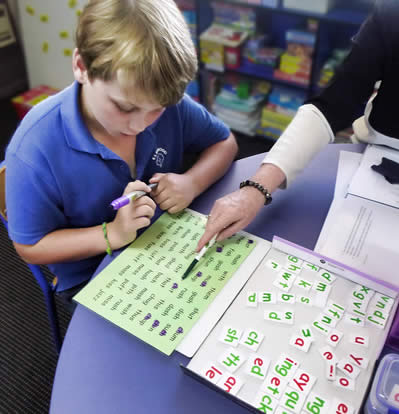 Agility With Sound is a systematic, research-based programme designed to deliver and strengthen each of the component skills of accomplished reading.
It is specifically written for children who have already fallen behind, from year 3 through to secondary school. It is a different way of learning to read for children who have not learnt to read competently by the traditional route.
It can be used by:
Teachers
Agility With Sound has been designed to be used in the classroom, for that group of children who need something different.
It has all the ingredients of a traditional reading programme, including the reading material, but the content is appropriate for older children who struggle with decoding and/or comprehension.
It is also for that group of children who seem to decode adequately, but whose comprehension is weak and whose spelling and writing skills are of concern.
Agility With Sound has been written with the realities of a modern classroom in mind, where teachers cannot give individual children hours of one-to-one support, or spend all of their time with one group.
There are many components that children can work on independently, but which are designed to strengthen skills. These include:
A comprehensive phonological awareness software package covering 18 levels, designed to deliver the many hours of practice some children need. It covers phonological awareness and phonics, with some thousands of phoneme level manipulations. Provide an iPad and earphones, set a level, and the software will do the rest.

Puzzles and challenges that a child can work on alone, or in groups of two or three.

A set of playing cards designed to strengthen the child recognition and blending of word parts, suitable for two or three children.

Exercises designed to build fluency that can be done at home, which can form the basis of the child's literacy homework.

Reading material that the child can read unaided, because they have already developed the appropriate decoding skills.

Comprehension that is drawing-based.
Intervention Programmes
Agility With Sound
has been used as an intervention programme for individuals and small groups. Much can be accomplished in 10-15 minutes a day with a literacy support teacher or teacher aide, particularly if this followed up with a classroom programme.
Private Tutors
Agility With Sound
is a complete programme, with all the resources you will need to teach a child to read.